Your theme challenge, should you use to
accept it....
you have seen my layouts using lots of buttons and lots of stitching and a number of you have commented about it... so now do something about it!
you may use cardstock, patterned paper, pens, thread and buttons on a layout. ONLY these elements.
your title needs to mention buttons or sewing
your layout will be judged based on the following:
1. interesting use of the theme.
2. usage of all required elements
3. aesthetic appeal
my layout was a scraplift of one that my dear friend from another scrapbooking forum created. it looks pretty close but for her privacy, i really dont want to share her name or the original layout. hope you understand.
here is a close up. of course, you dont need to stitch all of your buttons on but of course i am a glutton for punishment. see?: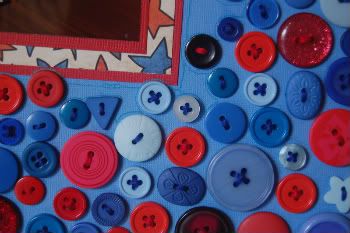 (
click here for the full layout
Collapse
)
Create a scrapbook page following the challenge guidelines. Next, upload your the photo here. Submissions must be uploaded and tagged by 7 pm Eastern time Thursday, 6/25. A winner will be drawn based on the above criteria on Friday morning and added to the top of this challenge thread.
You may enter as many submissions as you like for this challenge, but please do not submit duplicate challenge submissions. We like to see new submissions for each
challenge.
i dont have a rak for you if you win but you get a lovely pat on the back and the happiness of knowing you completed this challenge!