bucket list challenge
this is called the bucket list challenge.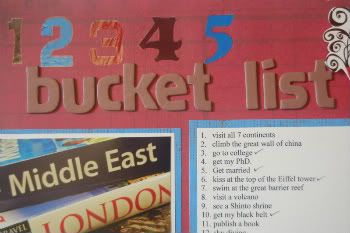 i wont give you the full story about why i created my list when i was a teenager, because frankly it will bore you... but i have been thinking about my bucket list a lot lately.
in case you arent familiar with the term, it crudely means a list of things you want to accomplish before you kick the bucket. some people call it a life list, because it is all the things they want to do in their lives, some call it their frog list because they need to do these things before they croak. but no matter what you call it, it has significance.
so your first part of the challenge is to sit and think about this list of things if you havent already. if you have already created a list, you can use it, like i did here. but if you haven't created a list yet, you shouldn't think in terms of things that might have been on the list when you were younger but that you already accomplished.
for example, if you are married and when you were younger getting married would have been on the list, dont include it because that takes away from the purpose.
if you are using an old list that you created a time ago, it would be great to actually check off the items you already completed.
I have 60 items on my list. the general idea, for those not familiar with the concept is that we shouldnt wait until we are old and have a death sentence to start really living our lives. i'll be 30 at the end of this month. compared to some of you, i am just a baby, but to me, 30 is a sign that i really am an adult. eek! that said... i have a LOT of living ahead of me, so this layout is to remind me of that living so i can get to it!
so create your list. then immortalize it by scrapping it or crafting with it. or creating wall art with it. or something. the something isnt important.
no special prizes from me for doing this challenge, just the knowledge that you have done such an awesome introspective challenge.
as always, thanks for looking. comments and feedback appreciated.
Layout count for 2008: 451
Layout count for 2009: 513
YTD layout count for 2010: 161